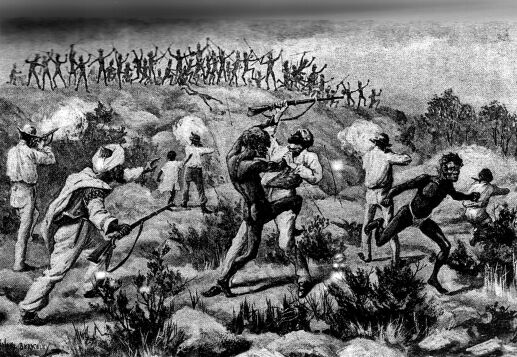 Attack at Ularring, [Western Australia 16 October 1875]. A depiction of a conflict, that took place on 16 October 1875, between explorer Ernest Giles's party and Aboriginal people at Ularring, Western Australia. Image from Ernest Giles, Australia Twice Traversed: The Romance of Exploration, 1880?, ebook published by The University of Adelaide, 17 December 2014
Some of the main sources for information on conflicts that happened in Western Australia during the colonial frontier period are included in such publications as:
Bang-em-all: bush life, and death on the Gascoyne: Bangemall and the Thomas River Police Station, Peter J Bridge 2013, Hesperian Press, Victoria Park, Western Australia
'Every Mother's Son is Guilty': Policing the Kimberley Frontier of Western Australia 1882–1905, Chris Owen, UWA Publishing, 2016
The Forrest River Massacres, Neville Green, Fremantle Arts Centre Press, Fremantle, Western Australia, 1995
Jandamarra and the Bunuba Resistance, Howard Pedersen and Banjo Woorunmurra, Magabala Books, Reprinted 2007
 Ngurra Kuju Walyja: Canning Stock Route Project, 2011-2013.
Read more: https://www.canningstockrouteproject.com/history/why-a-desert-stock-route/
'Northern and Western Australia, 1824–1834' in The Australian Frontier Wars 1788–1838, John Connor, University of New South Wales Press, 2002, pp. 68–83
Nyungah Land: Records of Invasion and Theft of Aboriginal Land on the Swan River 1829–1850, Black History Series, Swan Valley Nyungah Community, Guildford, Western Australia, 2005
Written in the Land: The Life of Queenie McKenzie, Jennifer Joi Field, Melbourne Books, Victoria, 2008
Yiwarra Kuju: The Canning Stock Route, National Museum of Australia, National Museum of Australia Press, Canberra 2010
For more references see the Bibliography, Books and Journal Articles. Also check the Resources page in the main menu. Sub-headings such as Databases, Films, Monuments and Memorials, Warriors and Videos include more information.
To see a map of frontier conflicts that happened in Western Australia, please follow this link. All coordinates are approximate. This map is being developed as time permits and may not fully reflect the list below.
Locations will be added to the list below as new information is found and time permits. If you know of incidents that occurred, not included and wish to contact the author of this website, please use the form on the Contact page.
WARNING: Some of the names of places included in the following list, derived from geographical names registers, historic and modern-day maps and other primary and secondary sources, are offensive and may be upsetting to some people. These placenames reflect the attitudes, racism and activities of people who gave these places English names during the frontier period.
1832
Perth area, WA, Yagan and others fight colonists. For more information: Yagan: https://www.noongarculture.org.au/yagan/
https://en.wikipedia.org/wiki/Yagan
1833
11 July
Perth, WA, Yagan killed.For more information: Yagan: https://www.noongarculture.org.au/yagan/
https://en.wikipedia.org/wiki/Yagan
1834
28 October
Battle of Pinjarra, WA
1836
August?
York area, WA
1837
July
Vasse, WA
1838
Perth, WA
1840s
Avon River, near York, WA, fighting between colonists and Aboriginal people continues.
1840
February
Western Australia
1841
21, 22, 27 February, 7 March
Vasse region, WA, Wonnerup massacre
For more information: https://en.wikipedia.org/wiki/Wonnerup_massacre
https://maryblight.com/2022/03/18/the-1841-wonnerup-massacre/
1841
27 August
Lake Minninup, near August, WA
1845
July
Victoria Plains, WA
1859
c. March
Upper Irwin River, mid-west WA
1862
1864
Mullewa, WA
1864
Tribradden Station, WA
1865
La Grange area, Kimberley region, WA
1865
Moola Bulla, WA
1868
Kimberleys, WA
1868
February–May
Flying Foam Passage, King Bay, Murujuga (Burrup Peninsula), WA, Flying Foam Massacres of Aboriginal people
For more information: Monument Australia: https://monumentaustralia.org.au/themes/conflict/indigenous/display/60363-flying-foam-massacre
Wikipedia: https://en.wikipedia.org/wiki/Flying_Foam_massacre

1880
Horse (Horso) Creek, Kimberley region, WA
The introduction of cattle and other European animals onto Aboriginal country caused much damage to traditional sites and waterholes, also upsetting the ecological balance. As in other colonies, as Europeans expanded their pastoral and mining interests in Western Australia, traditional food and water resources were disturbed, if not destroyed. In attempts to protect their country, Aboriginal people often had to hunt cattle from their lands, also resorting to killing them for food when traditional game was scarce or disappeared. At Horso (Horse) Creek about 1880 Europeans shoot a group of Gija people for driving off bullocks. To hide the evidence of the murders, the Gija people's bodies are burnt. Later the mother of a boy, who escapes the killings, finds him hiding in the carcass of a bullock.
1880
March
Cocanarup, Phillips River, WA
For more information: https://theaustralianlegend.wordpress.com/2016/10/03/the-cocanarup-massacre/
1880s–c. 1926
'The Killing Times', Kimberleys, WA
The Ruby Plains Massacre that took place during 'The Killing Times' was one example of how pastoralists dealt with Aboriginal resistance to European incursions. To record Aboriginal oral history of such events that most likely were not included in official European archives, Rover Thomas painted a series of 'killing times' paintings. Among this series were paintings of the massacre at Ruby Plains Station where Aboriginal people were shot for killing a bullock and later decapitated.

1881
September
Cocanarup, Phillips River, WA
Late 1882
Margaret River, eastern edge of the Fitzroy Valley, WA
1886
17 November
Kimberleys, WA
1887
Hall's Creek, WA
1890–1896
Western Australia, conflicts between pastoralists and Aboriginal people
1890–1920
Warmun (Turkey Creek) district, WA
1894
7 July
Kalgara (Mount Margaret) district, WA, P. Mack 'tomahawked'.
1894
30 July
Four miles south of Brickey's Soak, Kalgara (Mount Margaret) district, WA, 30 to 40 Aboriginal people, armed with spears and clubs, attack D'Arcy Uhr, Michael Galway and George Alexander at 3.00 pm in the afternoon. A nearby camp of six men assists Uhr's party to save their camp. An Aboriginal man kills one of the intruders on their Country, wounds another.
1897
Jandamarra, Bonuba leader killed, WA
1906–07
Canning Stock Route, WA
1915
Mistake Creek, near Warmun (Turkey Creek), east Kimberley region, WA
1916
Mowla Bluff Station, Geegully Creek, near Derby, Kimberleys, WA

1920s
Canning Stock Route, WA
1920s
Texas Downs Stations, WA
1921
Bedford Downs, WA
1922
October
Sturt Creek, south-west Kimberleys, WA
1926
23 May
Nulla Nulla Station boundary, 35 kms west of Wyndham, WA
1926
June
Forrest River, east Kimberleys, WAFourteen people including two police constables kill many Aboriginal men, women and children in punitive raids.
For more information: Neville Green, The Forrest River Massacres, Fremantle Arts Centre Press, 1995
1928
On or about 15 February
Wangkatjunka (Christmas Creek pastoral station), 120 kms east of Fitzroy Crossing, WA, Wangkatjunka (Christmas Creek) Massacre
Sources: Truth (Perth), Western Australia, Sunday 19 January 1930, pp. 1, 9. See also many other reports of this incident on the National Library of Australia's Trove. Station Manager, Albert Smith, denied the allegations. A jury found him not guilty after 10 to 15 minutes' deliberation: "Derby News, March 28, Legal", Northern Times (Carnarvon, WA), Thursday 3 April 1930, p. 4
See also Jack Bohemia and William McGregor, "A massacre on Christmas Creek Station", Journal of Australian Studies, Vol. 16, 1992, Issue, 33, pp. 26–40.

© Jane Morrison 2015–2022. Corrupted file replaced by Jane Morrison 27 May 2022, 3 June 2022. Page updated 5 October 2022.