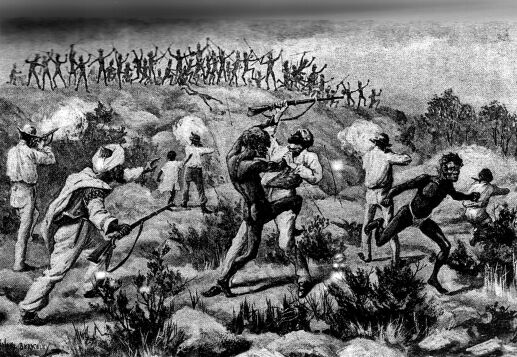 Attack at Ularring, [Western Australia 16 October 1875]. A depiction of a conflict, that took place on 16 October 1875, between explorer Ernest Giles's party and Aboriginal people at Ularring, Western Australia. Image from Ernest Giles, Australia Twice Traversed: The Romance of Exploration, 1880?, published as an ebook by The University of Adelaide, 17 December 2014
Some of the main sources for information on conflicts that happened in Western Australia during the colonial frontier period are included in such publications as:
Bang-em-all: bush life, and death on the Gascoyne: Bangemall and the Thomas River Police Station, Peter J Bridge 2013, Hesperian Press, Victoria Park, Western Australia
'Every Mother's Son is Guilty': Policing the Kimberley Frontier of Western Australia 1882–1905, Chris Owen, UWA Publishing, 2016
The Forrest River Massacres, Neville Green, Fremantle Arts Centre Press, Fremantle, Western Australia, 1995
Jandamarra and the Bunuba Resistance, Howard Pedersen and Banjo Woorunmurra, Magabala Books, Reprinted 2007
 Ngurra Kuju Walyja: Canning Stock Route Project, 2011-2013. Read more at: https://www.canningstockrouteproject.com/history/why-a-desert-stock-route/
'Northern and Western Australia, 1824–1834' in The Australian Frontier Wars 1788–1838, John Connor, University of New South Wales Press, 2002, pp. 68–83
Nyungah Land: Records of Invasion and Theft of Aboriginal Land on the Swan River 1829–1850, Black History Series, Swan Valley Nyungah Community, Guildford, Western Australia, 2005
Written in the Land: The Life of Queenie McKenzie, Jennifer Joi Field, Melbourne Books, Victoria, 2008
Yiwarra Kuju: The Canning Stock Route, National Museum of Australia, National Museum of Australia Press, Canberra 2010
For more references see the Bibliography, Books and Journal Articles.
To see a map of frontier conflicts that happened in Western Australia, please follow this link. All coordinates are approximate. This map is being developed as time permits and may not fully reflect the list below.
Locations will be added to the list below as new information is found and time permits. If you know of incidents that occurred, not included and wish to contact the author of this website, please use the form on the Contact page.
WARNING: Some of the names of places included in the following list, derived from geographical names registers, historic and modern-day maps and other primary and secondary sources, are offensive and may be upsetting to some people. These placenames reflect the attitudes, racism and activities of people who gave these places English names during the frontier period.
Export the full table as:
Date
Location
c. or on 3 May 1830
Ellenbrook, or Fremantle, or Lake Monger, or Perth (at present-day Leederville?), or Swan Valley, WA
Location of the place where the first conflict between Western Australian colonists and Noongar people took place in which Noongar people were killed. There is some debate as to where this first incident took place. Or was there more than one incident about that time? More research is needed in an attempt to settle the matter.
1926
12 kms west of the Forrest River Mission on the Forrest River near Goot-goot-meri, east Kimberleys, WA
1840s
Avon River, near York, WA
c. 1924
Bedford Downs, WA, Bedford Downs massacre. The manager of Bedford Downs station gives Aboriginal workers strychnine-laced rations of beef, bread and ham from which they begin to die after eating. As the people are dying in agony they are shot. The bodies of the dead are cremated using wood the manager has made Aboriginal workers collect previously. There is only one survivor who escapes to a hill where horsemen are unable to follow.
1921
Bedford Downs, WA
23 May 1926
Boundary of Nulla Nulla Station, 34 kms west of Wyndham, WA
November 1840
Busselton area:Colonists' terrible treatment of Noongar people, especially Wardandi Noongar Gaywal's daughter and her husband Nungundung, led to Nungundung killing Collie labourer Henry Campbell with the help of two friends. Campbell had defiled Gaywal's daughter, under Noongar law a crime payable by death.
1920s
Canning Stock Route, WA
1906–07
Canning Stock Route, WA
The world's longest historic stock route runs 1,780 kms, through the desert, between Halls Creek and Wiluna, Western Australia.
From 1906 Alfred Canning and his team begin surveying a route between waterholes that could be opened up for watering stock on their way from the Kimberley region to Wiluna. The wells along the controversial stock route become sites of conflict between Aboriginal cultures and western culture. Conflict on the stock route is triggered by, and in response to, the men who built the wells on Aboriginal Country and to the drovers who used the wells.
In 1907, during Canning's return to Wiluna, Michael Tobin and Mungkututu clash at Natawulu (Well 40). Tobin is fatally speared as he shoots and kills Mungkututu. The reasons for the incident vary. In one version, Tobin had taken Mungkututu's wife, in another Tobin's spearing is revenge for the theft of Aboriginal sacred objects by Canning's men.
While this conflict is recorded in European history, many other incidents relating to the Canning Stock Route are not. To redress this imbalance, Aboriginal artists have recorded their own histories of such events, on and near the stock route, in paintings. Ngurra Kuju Walyja–One Country One People–The Canning Stock Route Project, begun in 2006, is 'an intercultural and intergenerational story of collaboration and reconciliation.' Read more at: http://www.canningstockrouteproject.com/
As part of the multifaceted Canning Stock Route Project, from 30 July 2010 to 26 January 2011, the National Museum of Australia, Canberra held an exhibition, Yiwarra Kuju: the Canning Stock Route. An accompanying publication by the same title includes paintings of conflicts that took place in this area of Western Australia.
March 1880
Cocanarup, Phillips River, WA
September 1881
Cocanarup, Phillips River, WA
1892
Coolgardie region, WA
Feb–May 1868
Flying Foam Massacres, Flying Foam Passage, King Bay, Hearson's Cove, Murujuga (Burrup Peninsula), WA. Flying Foam was not a single event, but a sequence of murders of First Peoples by colonists. More than 100 (possibly up to 200) men, women and children were killed at these locations. In 2002 archaeologist Robert G Bednarik published an article, 'The killing fields of Murujuga' describing the 'Flying Foam' and related massacres. A copy of the article is available at http://nationalunitygovernment.org/pdf/2018/flying-foam-masscre-Robert-Bednarik.pdf Historian Tom Gara has also written articles, compiled in 2017 in The Flying Foam Massacre: Comprehensive Summary of Flying Foam Massacre (available online). In 2018, the 150th anniversary of the massacres was commemorated on Yaburara country. Ngaarda Media produced two videos in the lead up to the anniversary and on the day of the ceremony itself: Yaburara Flying Foam Massacre 150 Years On 2018 and Flying Foam Remembrance Day 2018 https://www.youtube.com/watch?v=_07Hl6p2Pd0
30 July 1894
Four miles south of Brickey's Soak, Kalgara (Mount Margaret district), WA, 30 to 40 Aboriginal people, armed with spears and clubs, attack D'Arcy Uhr, Michael Galway and George Alexander at 3.00 pm in the afternoon. A nearby camp of six men assists Uhr's party to save their camp. An Aboriginal man kills one of the intuders on their Country, wounds another.
7 March 1841
Gaywal is killedby a Mr Kelly, servant of Lieutenant Northey.
1887
Hall's Creek, WA
1880
Horse (Horso) Creek, Kimberley region, WA
1897
Jandamarra, Bonuba leader, killed WA
7 July 1894
Kalgara (Mount Margaret) district, WA, P. Mack 'tomahawked'.
1880s–1926
Kimberleys, WA–'the Killing Times'
Artists like Rover Thomas Joolama and Queenie McKenzie have depicted Aboriginal massacres during the 'Killing Times' in their art. The depictions of these massacres are based on Aboriginal oral history and not recorded in European histories of the Kimberleys. Pastoralists often covered up such 'dispersals' of Aboriginal people by burning bodies of the dead. Among the Kimberley massacres recorded in Aboriginal art are those that occurred at
Bedford Downs Station––bodies burnt at Kananganja (Mount King)
Horse (Horso Creek)
Mistake Creek
Ruby Plains Station
Lajipany (Horseshoe) Creek, Texas Downs Station
(Individual entries are also included below for these places).
1868
Kimberleys, WA
17 Nov 1886
Kimberleys, WA
1865
La Grange Bay area, Kimberley Region, WA
1920s?
Lajipany (Horseshoe) Creek, Texas Downs Station, Kimberleys, WA, after some Gija people drove off a group of  bullocks, pastoralists pursue and shoot most of them, burning the bodies to hide the evidence. A small Aboriginal boy escapes by hiding in a creek near Minyjiwurrji, where his mother later finds him.
Late 1882
Margaret River, eastern edge of the Fitzroy Valley, WA
30 March 1915
Mistake Creek, near Warmun (Turkey Creek), east Kimberley region, WA. A police report records an attack on an Aboriginal camp at Mistake Creek by three men on 30 March 1915. Three Aboriginal males are shot dead, five Aboriginal females captured. A wounded Aboriginal man escapes with at least two other people. The women and girls are made to cart firewood. Bodies of two dead are then burnt. The women and girls are then taken to another part of the creek then shot.
c. 23 February 1841
Mollakup area:In a punitive expedition against the Wardandi, colonists kill seven Noongar people and capture 13 women and children. Gaywal is not among these people.
1865
Moola Bulla, WA
1916
Mowla Bluff Station, Geegully Creek, near Derby, Kimberleys, WA
1864
Mullewa, WA
21 February 1841
Near Wonnerup:Wardandi warrior, Gaywal, spears and kills colonist George Layman, for whom Gaywal and 18 other Wardandi people were working, after an argument over payments of damper to workers and Layman's action when he pulled Gaywal's beard–highly insulting behaviour in Wardandi culture. For details see: Jessica White, 'Paper talk', Testimony and Forgetting in South-West Western Australia, Journal of the Association for the Study of Australian Literature, 17.1, 2017, pp. 1–13. This article includes references about the incident in books, journal articles and relevant stories in newspapers.
1832
Perth area, WA, Yagan and others fight colonists
11 July 1833
Perth area, WA, Yagan killed.
1838
Perth, WA
28 October 1834
Pinjarra Massacre, or Battle of Pinjarra, near Murray River, WA. A detachment of 25 soldiers, police and other colonists, led by Governor James Stirling, attack up to 80 Noongar people on 28 October 1834. The attack follows earlier unrest caused by the dispossession of Noongar people after the arrival of the British in the area. The exact number of Aboriginal people killed or wounded is not known but could have been up to 30 or more. By contrast only one colonist is killed and one injured.
1920s?
Ruby Plains Station, Kimberleys, WA, the owner and manager of Ruby Plains Station shoot and decapitate Aboriginal men found butchering a bullock. The heads of the murdered men are placed in a hollow tree. Crows hover over the dead men's bodies, alerting friends to their whereabouts.
Oct 1922
Sturt Creek, south-east Kimberley, WA
Tensions between Aboriginal people and pastoralists heighten as pastoralists expand stations across the Kimberley in the 1920s. More than a dozen Aboriginal people are believed to have been killed at Sturt Creek in October 1922 by police when they are sent to investigate the deaths of two pastoralists, Joseph Condren and Tim O'Sullivan, at Billiluna Station. While the activities of police at Sturt Creek were not documented, oral testimony of Aboriginal elders described police shooting at their people at Sturt Creek. According to survivors, after police ammunition ran out, some remaining Aboriginal men, women and children were chained up and marched to a place near old Denison Downs homestead where they too were shot. It is alleged that the bodies of the deceased were tipped into a well nearby and burnt. A team of Flinders University-led archaeologists and forensic scientists has conducted a fresh study of Aboriginal massacre sites in the Tanami Desert near the Western Australia-Northern Territory border. Lead researcher, Dr Pam Smith, said that while some of the results were inconclusive, the findings of the most advanced study of the alleged 1922 Sturt Massacre had backed up local Aboriginal elders' oral histories of the events that have been handed down to relatives of survivors.
Sources:
Pamela A Smith, The Sturt Creek Massacre: Report on the History, Archaeological Survey and Forensic Investigation, Department of Archaeology, Flinders University, November, 2010:
https://www.researchgate.net/profile/Pamela-Smith-6/publication/290607958_Sturt_Creek_Massacre_Report_on_the_History_Archeological_Survey_and_Forensic_Investigation_2010/links/569ae77508ae748dfb0b8b6e/Sturt-Creek-Massacre-Report-on-the-History-Archeological-Survey-and-Forensic-Investigation-2010.pdf?origin=publication_detailErin Parke, ABC Kimberley, 'Aboriginal massacre sites uncovered in first forensic science study', Updated 1 October 2017 at: http://www.abc.net.au/news/2017-10-01/forensic-science-study-seeks-truth-of-aboriginal-massacres/9001770
See also:
– Pamela Smith and Keryn Walshe, 'Oral testimony of an Aboriginal massacre now supported by scientific evidence, The Conversation, 31 October 2017 at: indaily.com
1858
Tibradden Station, Victoria River district inland from Geraldton, WA
1862
Tribradden Station, inland from Geraldton, WA
1864
Tribradden Station, inland from Geraldton, WA
c. March 1859
Upper Irwin River, mid-west, WA
July 1837
Vasse, WA
July 1845
Victoria Plains, WA
On or about 15 February 1928
Wangkatjunka (Christmas Creek) Massacre, WA
Truth (Perth), Western Australia, Sunday 19 January 1930, pp. 1, 9. See also many other reports of this incident on the National Library of Australia's Trove. Station Manager, Albert Smith, denied the allegations. A jury found him not guilty after 15 minutes' deliberation: "Derby News, March 28, Legal", Northern Times (Carnarvon, WA), Thursday 3 April 1930, p. 4
See also Jack Bohemia and William McGregor, "A massacre on Christmas Creek Station", Journal of Australian Studies, Vol. 16, 1992, Issue, 33, pp. 26–40.
1890–1920
Warmun (Turkey Creek) district, WA
February 1840
Western Australia
1890–1896
Western Australia, conflicts between pastoralists and Aboriginal people continue.
Early 20th century
Wirdim Country, Kimberleys, WA, Aboriginal people spear a European stockman.
27 February 1841
Wonnerup "Minninup" massacre, near Wonnerup:Dozens of Wardandi people killed in a second punitive expedition led by Captain John Molloy, resident magistrate of the Busselton area and John Bussell. A coverup ensued.
August 1836
York area, WA?
© Jane Morrison 2015–2021