There is a growing number of videos and films about the frontier conflicts that occurred in the Australian colonies and after Federation in 1901. The list below, in alphabetical order, is preliminary. Links to other videos and films are added to this page from time to time.
Aboriginal massacre at Bingara (Kamilaroi/Gamilaraay country), freedomandpeacesos, 21 March 2010. Watch this video about the Myall Creek Massacre at:  https://www.youtube.com/watch?v=G8WYwcK91fI
Aboriginal massacre in Australia (Three Rivers), freedomandpeacesos, 21 March 2010. Watch this video about massacres in the Three Rivers area of New South Wales at: https://www.youtube.com/watch?v=fj3OrIxTq0g
Australia on Trial (2011)–Massacre at Myall Creek. Watch this video at: 
https://www.youtube.com/watch?v=PBrFPMrlZms

YouTube summary of Australia on Trial:
Presented by historian Michael Cathcart, Australia on Trial is a thought-provoking three-part series recreating the historic trials that throw light on the Australia of colonial times. These high-profile and controversial court cases raised major issues of national identity at a time when Australia was evolving from the dominion of the British Empire into a more autonomous federated nation in the late 19th century. Each of the cases caused a sensation at the time and attracted enormous public interest. Each triggered social and political debate about subjects at the very heart of Australian society: democracy and justice, the identity and behaviour of Australia's men, and attitudes towards women and Indigenous people–themes and concerns that are still relevant to modern-day Australia.
In June 1838, a group of roughneck stockmen led by a squatter, rode into the newly established Myall Creek station to 'teach the blacks a lesson'. They hacked around 30 Aborigines to death. The killers had not calculated on two factors. The first was that a stockman named Anderson, who witnessed the crime, was determined to see his countrymen punished. The second was that the governor of New South Wales, George Gipps, shared Anderson's horror of such brutality. Anderson was ready to testify. The government was determined to press the case. But the prosecutor did not obtain the conviction easily.
The trial was fought out as bitterly in the press as it was in the courtroom. But in the end, a white jury sent seven men to the gallows for the murder of tribal Aborigines.
A number of books have been written about the Myall Creek Massacre. See the Bibliography on this website for details. The 180th Anniversary of the Myall Creek Massacre will be commemorated at the Myall Creek Massacre Memorial site, Bingara, New South Wales in June 2018. Details are on the News section this website (see the menu at the top of this page) and on the Facebook page connected to this website.
Australian Aboriginal Genocide, Adam Keawe Manalo-Camp, 1 February 2008. Watch this video on YouTube at: https://www.youtube.com/watch?v=Z7eubc-Yk3M
Australian Terrorism, Stanley Lenoy, Stan Lenoy Films, September 2018. Excerpts from four hours of interviews recorded with Dr Ernie Grant, Jirrbal/Girramay Elder, in December 2017. Dr Grant talks about the killings of Aboriginal people in the Tully/Innisfail region of Queensland in the mid-1800s to the early 20th century. The title of Stan Lenoy's video, Australian Terrorism,  is taken from Danish man Thorvald Weitmeyer's book, Missing Friends, after a visit to the Herbert River Police Camp, in 1892: "It is the duty of this official with the assistance of his troopers, to fill the Aborigines with terror and to use such means to that end as his own judgement may dictate." (Quote from Jonathan Richards, The Secret War: A True History of Queensland's Native Police, UQP, 2008, p. 40). In the Lenoy video, Dr Grant mentions Kirrama Station, Mission Beach (where today's Jumbun Aboriginal Community is located) and Tully Falls as sites of conflict between colonists and Aboriginal people who were often killed ruthlessly. You can view Australian Terrorism here: https://vimeo.com/286623629
Babe in the Reeds: a story of massacres and resilience, Lois Cook and Catherine Marciniak, ABC Open North Coast, 2014.
In this short video, Lois Cook and her family share the story of their forebear, Bubba Cook, who survived a massacre, and what happened to the Nyanbul people of the New South Wales north coast. It is a brutal, often officially unrecorded, history of what occurred as the area was colonised. Based on oral history provided by family members and research conducted at the Ballina Library with the help of library staff, Lois Cook talks of massacres that happened in the Ballina area in the 19th century at locations such as East Ballina, Black Head, White's Beach, South Ballina, Patchs Beach, Seven Mile Beach, Broadwater and Wardell. You can view Babe in the Reeds here: https://vimeo.com/109755773
Conspiracy of Silence: Queensland's frontier killing times, Timothy Bottoms, 24 February 2016
Click on the arrow in the centre of the image below to watch the video. Timothy Bottoms has also written a book, Conspiracy of Silence: Queensland's frontier killing times, published by Allen & Unwin in 2013. For a list of books and other resources on Australian frontier conflicts, go to Resources in the main menu on the top of this page. Scroll down to the Bibliography, Journal Articles, Maps and Timelines.
Dharawal people remember horrific Appin massacre
NITV News, 5 March 2017. Watch the video at:
https://www.youtube.com/watch?v=NDE86ld1fHA
1824 Martial Law Proclamation highlighted in Bathurst, Eleanor Gilbert, Enlightning Productions, 14 August 2018
It is six years until the bicentenary of the Proclamation of Martial Law against the Wiradjuri Nation at Bathurst, New South Wales. Dinawan Dyirriban (Bill Allen) has brought together the mainstream Bathurst community to begin planning for a bicentenary event at Bathurst in 2024. You can watch a video of this gathering on Vimeo at: https://vimeo.com/285111243
Frontier Wars March Invitation–Anzac Day 2018, Eleanor Gilbert, Enlightning Productions, April 2018.
Since 2011, every 25 April, on Anzac Day, a march is held on Anzac Parade, Reid, Canberra, Australia to commemorate Aboriginal and Torres Strait Islander people who gave their lives, in the defence of their homelands, during the frontier period. Watch a video of Ghillar Michael Anderson inviting people to join the annual Frontier Wars March on Anzac Day, 25 April 2018, Anzac Parade, Reid, Canberra. Gather at 9.30 am at the bottom of Anzac Parade and Constitution Avenue, Reid: https://vimeo.com/213523350
See also Help Bury Our Dead below.
Frontier Wars Marches: Moving Truth
Independent filmmaker, Eleanor Gilbert of Enlightning Productions, has recorded the frontier wars marches over the years they have been held. You can view her video, Moving Truth, that documents the marches to 2016 at: https://www.youtube.com/watch?v=lmVAxy59WVI&feature=youtu.be

Frontier Wars March 2017, Eleanor Gilbert, Enlightning Productions, 25 April 2017. Click on the arrow at the bottom left of the image below to watch this video.
More information about the annual Frontier Wars Marches is on the Australian Frontier Wars March page on this website.
Help Bury Our Dead–Frontier Wars 2018, Eleanor Gilbert, Enlightning Productions, 2018
Ghillar Michael Anderson explains the reasons behind the Frontier Wars Marches and how important it is that all Australians know about and understand the truth of our history. To watch this video, click on the arrow at the bottom left of the image below.
Jandamarra–Aboriginal Geronimo, Rebel Films, 12 March 2017. Jandamarra (1870–1897) was an Aboriginal warrior and leader of the Bunuba people from Western Australia. The Dictionary of Australian Biography has included an entry on  him by Howard Pedersen in the Indigenous Australia collection at: https://ia.anu.edu.au/biography/jandamarra-8822
You can watch the documentary Jandamarra–Aboriginal Jeronimo on YouTube at: https://www.youtube.com/watch?v=t4a2Ik5YvT0
Jandamarra's War, Electric Pictures, Trailer, 4 May 2011. You can watch a trailer for this film, narrated by Ernie Dingo, at: https://www.youtube.com/watch?v=cXejE5DXR9E
DVD available: https://electricpictures.com.au/produc…
VOD available: https://vimeo.com/ondemand/jandamarra…
Massacre Recollections: Elder Stories of the Frontier Wars in Far North Queensland, Tim Bottoms, 19 July 2019,
Massacre Recollection in Far North Queensland, Australia. Aboriginal Elders recount specific instances of frontier violence. The late Kenny Jimmy from Kowanyama, as well as Jack Muriata (Girramay), David Lawrence (Girramay) and Bessie Jerry, and Jirrbal Elder, Willie Masina. Also Dr Ernie Grant (Girramay) and Willie Brim (Buluwanydji), recounts indigenous people being shot and the use of poisoning as they were in the way of the invaders economic viability. It's way past the time to acknowledged this shameful part of our history and the truth about the frontier, and later (not covered here) the after affects of Missions and Government Reserves where education was to Grade 4. www.
http://cairnshistory.com.au/
Story of Jandamarra, Ben Beeton, 24 March 2017. You can watch this documentary on YouTube at: https://www.youtube.com/watch?v=wNLv1eWLeNA
You can read more about Jandamarra on the Aboriginal Warriors page on this website.
Smallpox: Biological Warfare 1789 Onwards, Eleanor Gilbert, Enlightning Productions, 2017
The use of smallpox as a biological agent against Indigenous peoples is a controversial subject. Chris Warren talks about smallpox and how the disease broke out in the colony of New South Wales in 1789 and later. He discusses the various theories about how the disease entered New South Wales, affecting and decimating many Aboriginal people. Watch the video at: https://vimeo.com/213523350
Sweet Country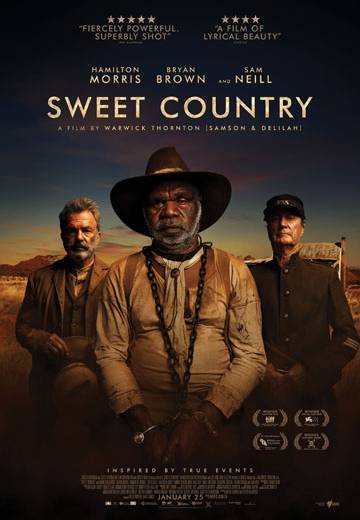 Sweet Country, Bunya Productions, 2017, (more information at: https://bunyaproductions.com.au/sweet-country/), directed by award-winning director, Warwick Thornton (Samson and Delilah, 2009). The film was released in Australia on 26 January 2018, 'Australia Day'–to First Nations People and their supporters, the Day of Mourning, Invasion Day or Survival Day. The film, inspired by real events that happened on the Northern Territory frontier, is an Australian western, set in the 1920s. The movie has already been nominated for many awards and won the Special Jury Prize at the Venice Film Festival, the Platform Prize at the Toronto International Film Festival, the Best Fiction Feature, Adelaide Film Festival Audience Awards, and Best Feature Film, Asia Pacific Screen Award. Sweet Country may still be showing in cinemas. Watch the Trailer at: https://bunyaproductions.com.au/sweet-country/
The film can be previewed, bought and downloaded on iTunes at: https://itunes.apple.com/AU/movie/id1339458990
The Native Mounted Police–Frontier Conflict and the Old Native Mounted Police Showcase, 16 December 2019
This is a summary of the Frontier Conflict and the Native Mounted Police in Queensland public research database, available via frontierconflict.org. This database contains archival, oral historical and archaeological (site and artefact level) data relating to the lives and activities of the Native Mounted Police in Qld from 1848 until 1904. Watch the video at: https://www.youtube.com/watch?v=5AIqN_-1Dpk&feature=youtu.be

Yaburara Flying Foam Massacre 150 Years On 2018
A video of the story of the Flying Foam Massacre that took place in the Pilbara, Western Australia, beginning in February 1868, of more than 100 Yaburara Aboriginal men, women and children. Ngaarda Media, YouTube video narrated by Ernie Dingo, uploaded 9 April 2018. A 150th Remembrance Day Commemoration will be held on in Murujuga National Park, Burrup Peninsula, Western Australia on Sunday 15 April 2018. Watch the video at: https://www.youtube.com/watch?v=mqIWWZRgZvU