Sally Pryor of The Canberra Times interviews Ghillar Michael Anderson about his memories of setting up the Aboriginal Embassy on the lawns opposite Old Parliament House, Canberra on 26 January 1972: https://www.canberratimes.com.au/story/7573856/what-we-need-is-respect-recent-protester-actions-at-odds-with-tent-embassy/ (Story The Canberra Times 8 January 2022)
Mr Anderson won't be deterred by recent efforts to derail the 50th anniversary on 26 January 2022. He and supporters plan to go ahead with a march from the National Film and Sound Archive, near the Australian National University to New Parliament House, concerts, speeches, and workshops. A conference on Decolonisation–Where to from Here? will be held at the Albert Hall, Commonwealth Avenue, Canberra on 27 January 2022.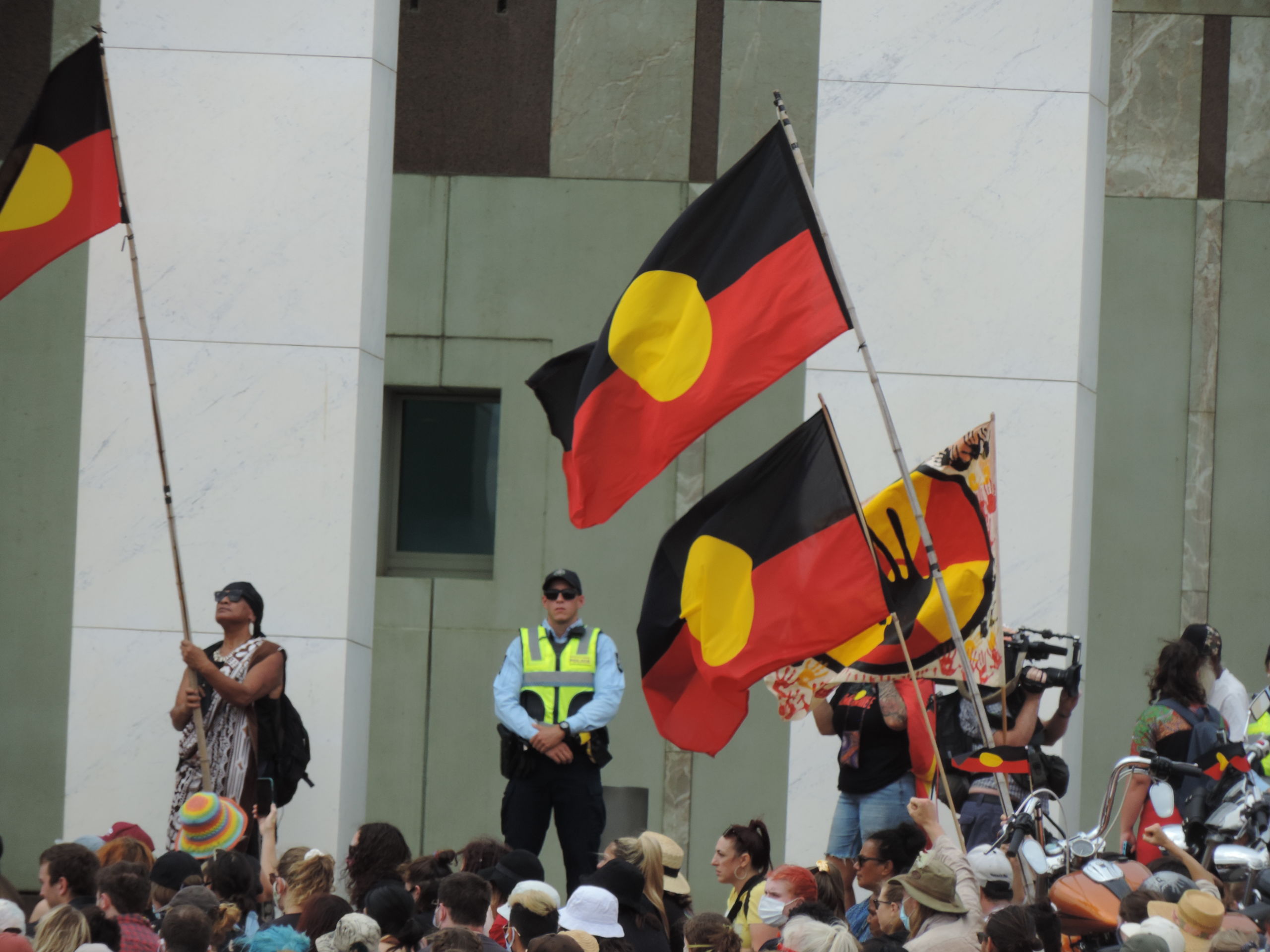 Protest, New Parliament House, Canberra 26 January 2021. Photo: Jane Morrison
A similar protest is planned for 26 January 2022 to mark the 50th anniversary of the establishment of the Aboriginal Embassy on the lawns opposite Old Parliament House, Canberra on 26 January 1972. Australia's First Nations never ceded sovereignty over their Country, often wrenched from First Peoples through killings and massacres, and through the spread of introduced diseases to which First Peoples weren't immune. While some land has been returned to First Nations under land rights legislation, Native Title laws that purport to return land, restrict First Nations' involvement in decisions about activities on their Country, such as mining and other development. Many of Australia's First Nations people continue to suffer unacceptable health issues, death and incarceration rates, over-crowded and poor housing, lack of education and employment opportunities, and government restrictions on self-determination such as a First Nations' parliament. Various Australian  governments have scuttled attempts at self-determination such as the National Aboriginal Consultative Committee, the National Aboriginal Conference, the Aboriginal and Torres Strait Islander Commission, and the National Aboriginal Congress of Australia's First Peoples.
Story updated 2 October 2022.