Yet another call for the commemoration of Australia's frontier wars at the Australian War Memorial has been made–this time by Dr Sue Wareham, President of the Medical Association for the Prevention of War. Listen to ABC Radio National's Hamish McDonald interview Dr Wareham, on 7 July 2022, about why the Australian War Memorial should commemorate wars that took place on Australian soil:
https://www.abc.net.au/radionational/programs/breakfast/calls-for-war-memorial-to-include-frontier-wars-commemoration/13961082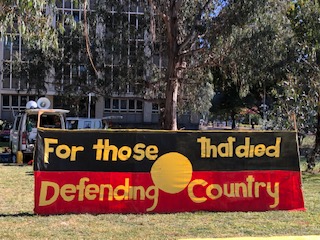 Banner commemorating First Nations people who gave their lives in the defence of Country in the frontier conflict period. Photo: Jane Morrison, Anzac Day, 25 April 2021
Dr Wareham is also a board member of the International Campaign to Abolish Nuclear Weapons, the winner of a Nobel Peace Prize in 2017 and founded in Melbourne, Australia in 2007. There is strong international support for the Treaty on the Prohibition of Nuclear Weapons (TPNW) that came into force on 22 January 2021. Among the TPNW campaigners are Kokatha Elder from Ceduna, South Australia, Sue Coleman-Haseldine (ICAN Ambassadsor) and her grand-daughter, Kokatha woman, Mia Haseldine and Yankunytjatjata-Anangu woman Karina Lester (ICAN Ambassador), daughter of the late Yami Lester.
Read more about Kokatha Elder Sue Haseldine's and Karina Lester's involvement here:
Sue Coleman-Haseldine: https://vienna.icanw.org/aunty_sue_coleman_haseldine
Karina Lester: https://vienna.icanw.org/karina_lester
The Australian government also sent observers, headed by the Federal Member for Macquarie, Susan Templeman MP, to the first meeting of States Parties to the treaty, held in Vienna, Austria from 21–23 June 2022. Read more about Australian involvement in the Vienna meeting and the many reasons for it here: https://www.icanw.org/australia/