This year, 2020, the 250th anniversary of Cook's voyage to Australia was to be commemorated at great expense–$A48.7 million was allocated for Cook commemoration ceremonies and a replica HMS Endeavour to sail around Australia. One positive outcome of the coronavirus pandemic is the cancellation of the proposed taxpayer-funded visit of the Endeavour to 38 Australian ports beginning on 6 May 2020. Read more about the scrapping of  the voyage in Stephen Johnson's story in the Daily Mail Australia, updated on 1 April 2020 at:
https://www.dailymail.co.uk/news/article-8158373/Captain-Cook-replica-ship-Endeavours-cruise-Australian-cancelled-coronavirus.html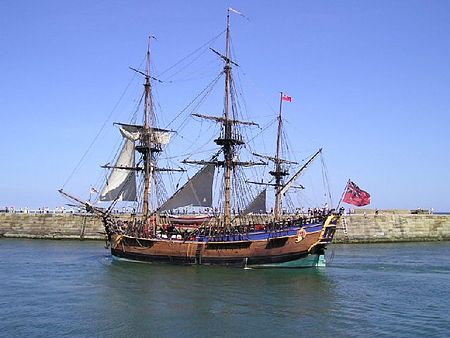 An earlier replica of HMS Endeavour sailing from Whitby Harbour,
June 2000. Wikipedia.