Control over a sacred site where 300 First Nations people were massacred in the late 1800s has been handed back to the Darumbal people.
The Queensland Government's latest move gives trusteeship to the Gawula Aboriginal Land Trust of a 13.5-hectare reserve at the foot of Gai-i (formerly Mt Wheeler) that is surrounded by the land over which the Darumbal people already have native title.
Control over the reserve was handed to the Darumbul in a ceremony held south-west of Yeppoon on 21 April 2022. Read more in an Australian Associated Press story that appeared in The Guardian:
https://www.theguardian.com/australia-news/2022/apr/21/sacred-land-where-300-indigenous-australians-were-massacred-returned-to-darumbal-people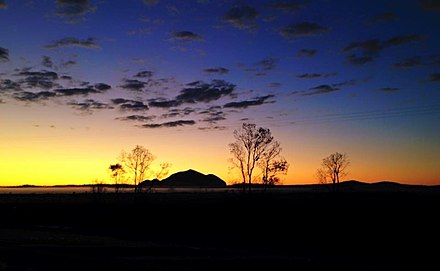 Gai-i, Queensland at sunset. Wikipedia
In 2007 the Queensland Government granted freehold title over 137 hectares at the then-named Mt Wheeler to the Gawula Aboriginal Land Trust: https://web.archive.org/web/20160611052019/http://statements.qld.gov.au/Statement/Id/49968
After successful Darumbal lobbying to remove links to past atrocities and racist connotations, the name of Mt Wheeler, was changed to 'Gai-i' in 2018. Read more in the Wikipedia entry on Gai-i: https://en.wikipedia.org/wiki/Gai-i and in Emilia Terzon and Paul Robinson's story on ABC online, posted 15 May 2018: https://www.abc.net.au/news/2018-05-15/mount-jim-crow-and-mount-wheeler-to-be-renamed/9762114
Historian Jonathan Richards has written about the problems of locating official records about the naming of Mt Wheeler and about Inspector Frederick Wheeler of the Queensland Native Police, who was implicated in the killing of many First Nations' people. See: '"Many were killed from falling over the cliffs": The naming of Mount Wheeler, Central Queensland', chapter 8 in Ian D Clark, Luise Hercus and Laura Kostansk eds, Indigenous and Minority Placenames: Australian and International Perspectives, ANU Press and Aboriginal History Inc., 2014, pp. 147–16: https://press-files.anu.edu.au/downloads/press/p286811/pdf/ch081.pdf
More information about Wheeler and the Queensland Native Police is in Jonathan Richards' book, The Secret War: A True History of Queensland's Native Police, University of Queensland Press, 2008.