In 1770 when Captain James Cook sailed to Tahiti to observe the transit of Venus, there was an ulterior motive for the voyage–the 'discovery' and claiming, in the name of England's King  George III, of Terra Australis Incognita, the 'unknown southern continent'. He ignored the fact that people hand been living on the mainland of Australia, its many islands and Aotearoa (New Zealand) for thousands of years.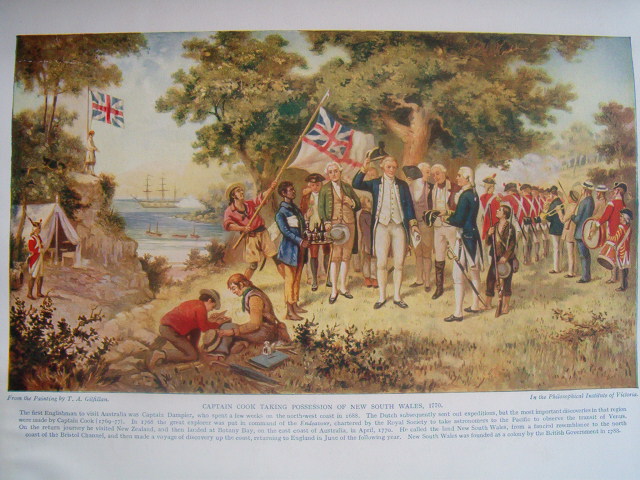 Captain James Cook claiming New South Wales on Bedanug, (Possession Island), Torres Strait, Queensland,
22 August 1770. He ignored the inhabitants, the Kaurareg people, who won a native title claim over the island,
that they had inhabited for centuries, and nearby islands, in 2001.
Over 10 years, Maori artist Lisa Reihana created a panoramic digital video, In Pursuit of Venus [Infected] in which she re-imagines Cook's encounters with Pacific peoples. Her work was inspired by French manufacturer, Joseph Dufour's scenic 19th-century wallpaper, in turn based on painter Jean- Gabriel Charvet's design. As part of the Sydney Arts Festival, Lisa Reihana's Cinemania, featuring In Pursuit of Venus [Infected] and other works, is on show at the Campbelltown Arts Centre, 1 Art Gallery Road, Campbelltown, New South Wales, until 29 March 2018. Dee Jefferson, ABC Arts online, Wednesday, 31 January 2018 writes more about the work and the exhibition at: https://www.abc.net.au/news/2018-01-31/lisa-reihana-in-pursuit-of-venus-reimagines-australian-history/9376114