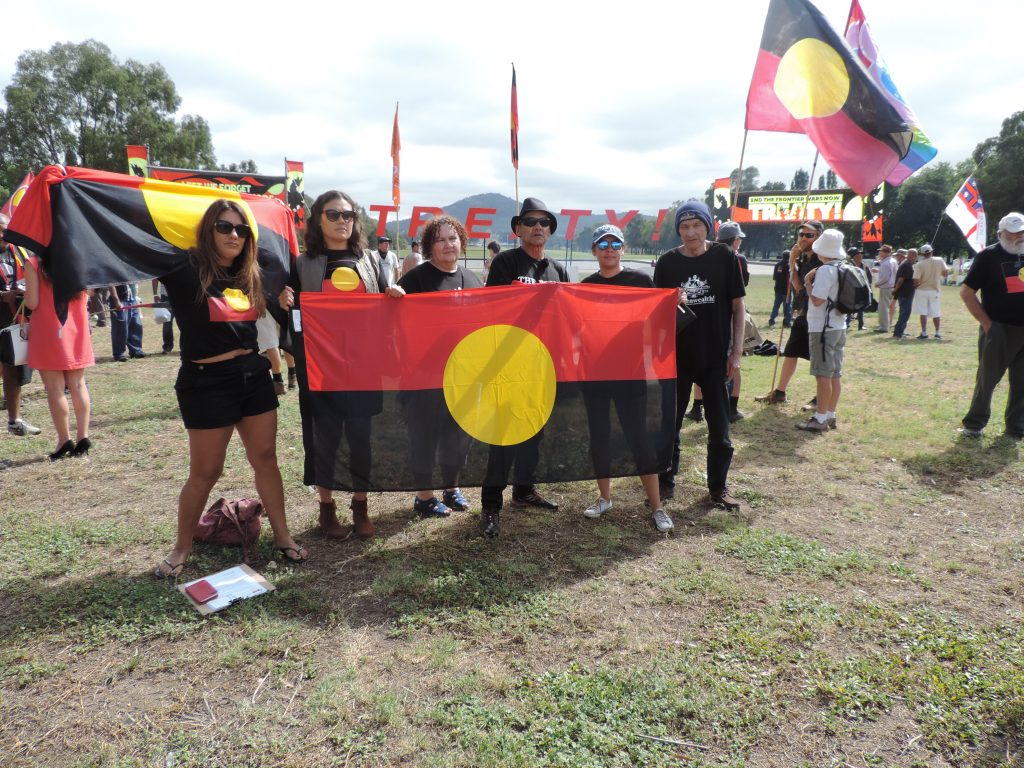 Invasion Day, Aboriginal Embassy, Canberra, 26 January 2017. Photo: Jane Morrison
Aboriginal and Torres Strait Islander Sovereignty has never been ceded over the Australian continent and its islands. Aboriginal people continue to call for a treaty or treaties with the dominant power, which, on 26 January 2018 will celebrate 230 years since the invasion of First People's lands in January 1788.
Many Aboriginal and Torres Strait Islander people and their supporters call 26 January, ('Australia Day'), Invasion Day, the Day of Mourning, or Survival Day. Events will be held around Australia on 26 January 2018, to mark 230 years since the British invaded Aboriginal lands around Sydney and established the penal colony of New South Wales. Some of these events have been publicised already. See: 'Invasion Day events around Australia', Green Left Weekly, 10 January 2018, at: https://www.greenleft.org.au/content/invasion-day-events-around-australia Many more such events are likely to be held around the country, so watch out for events near you.
Last year two local councils proposed the cancellation of Australia Day celebrations on 26 January 2018, while Aboriginal journalist Stan Grant called for plaques on monuments to 'founding fathers' to be changed to reflect the truth of Australian history. More local councils joined the push 'to Change the Date' ('More councils join push to change Australia Day date', The Australian online, 25 August 2017, at: https://www.theaustralian.com.au/national-affairs/state-politics/more-councils-join-push-to-change-australia-day-date/news-story/83b49ef9a74d7576aeaf90aa8ef3f07c
Other councils, such as some in South Australia, want Australia Day to continue as is and could ban councils from changing the date if the Liberal Opposition is elected to government in March 2018: Isabel Dayman, 'Australia Day: Councils to be banned from changing the date if Liberals win SA election', ABC News online, updated 24 October 2017 at: https://www.abc.net.au/news/2017-10-24/sa-liberals-announce-australia-day-lock-in/9079012
As 26 January looms, it is worth reflecting on the whole issue of Australian history, the celebration of Australia Day and the 'airbrushing' of the past by the dominant society. Professor A. Dirk Moses, Professor of Modern History, University of Sydney and senior editor of the Journal of Genocide Research, posted an article about this issue on ABC Religion and Ethics, on 1 September 2017. Read the article here: https://www.abc.net.au/religion/who-is-really-airbrushing-the-past-genocide-slavery-and-the-retu/10095434
(Australian Frontier Conflicts post updated 28 October 2022).