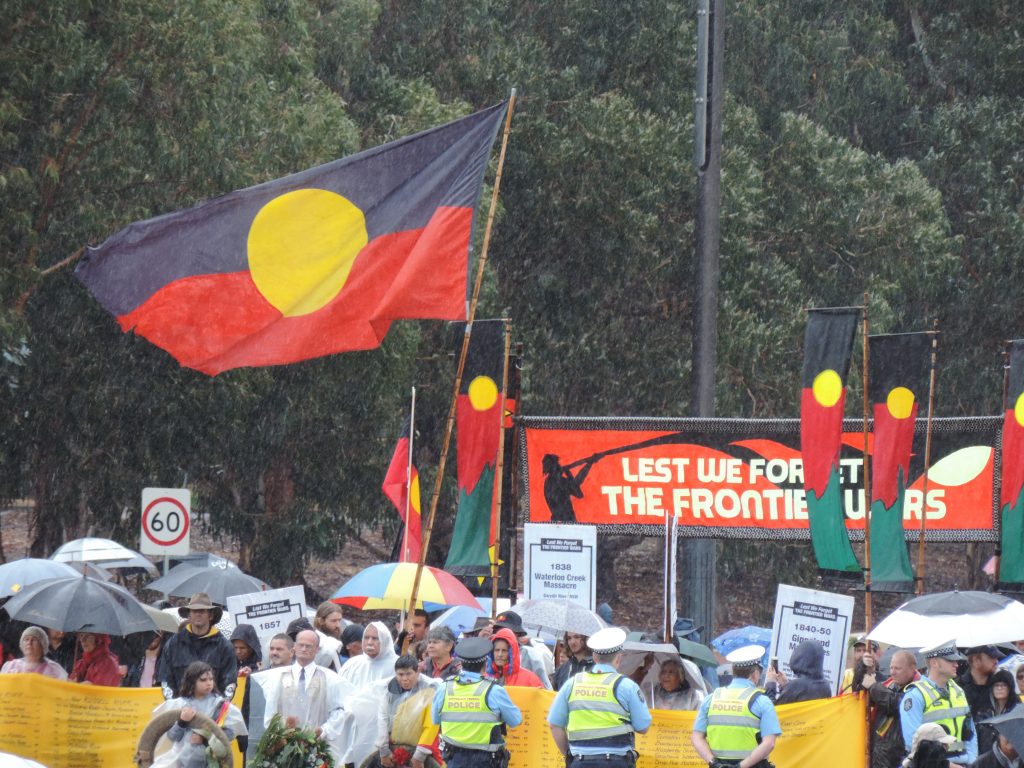 The Australian Frontier Wars March is held in Australia's national capital, Canberra, every Anzac Day on 25 April. Marchers assemble at the foot of Anzac Parade leading to the Australian War Memorial (AWM). Participants commemorate those Aboriginal and Torres Strait Islander people who gave their lives defending their homelands from the incursions of British and other colonists from 1788, when the First Fleet arrived in what we now call Sydney.
Independent filmmaker, Eleanor Gilbert of Enlightning Productions, has recorded the frontier wars marches over the years they have been held. You can view her video, Moving Truth, at: https://www.youtube.com/watch?v=lmVAxy59WVI&feature=youtu.be
While not permitted to join Anzac Day veterans commemorating fallen veterans of wars in which Australians have participated overseas, Frontier Wars marchers hope that one day the AWM will accept the frontier wars as befitting official recognition as part of Australia's war history.
Aboriginal and Torres Strait Islander Peoples are recognised for their war service in overseas conflicts, however the Australian War Memorial does not officially recognise their defence of homelands in the colonial period. The theme of the For Country, for Nation exhibition that the AWM held from 23 September 2016 to 13 September 2017, was 'Defending country–Indigenous Service'. As part of its Indigenous service theme, the AWM's official magazine, Wartime, ran an article, 'The Fighting Gunditjmara', by Lachlan Grant, in the Spring 2016 issue. In the story, Grant refers to the conflicts that arose between Europeans and Aboriginal people in the Portland area of Victoria in the 1830s. He quotes Gunditjmara man and Australia's first Aboriginal Army officer, the late Captain Reg Saunders:
I would have fought the war my forefathers fought [on Aboriginal Country in Victoria] because I think we were right. We were fighting for survival and that has always been a justification for war. (Wartime, Spring Issue, 2016, pp. 18–24)
In the For Country For Nation exhibition, the AWM included two paintings of massacres that took place in Western Australia: Queenie McKenzie's Horso Creek killings and Rover Thomas's Ruby Plains Massacre 1. The intention of these works, and others like them, are Aboriginal historical records of events that occurred and have been handed down through the oral tradition, but not necessarily recorded in government archives. Queenie McKenzie's painting depicts an 1880s incident in which colonists shot a group of Gija people for driving away bullocks. To hide the evidence of the murders, the Gija people's bodies were burnt. The mother of a boy who survived the massacre found him hiding in the carcass of a bullock. Rover Thomas's painting is one of a series he created to record 'the killing times' in the East Kimberleys, Western Australia from the 1880s to the 1920s.
The AWM's official position is that the Frontier Wars should be recognised, but that their history is better covered by other institutions like the National Museum of Australia (NMA).
Museum Coverage of Conflicts on the Australian Frontier
National Museum of Australia
You can take a virtual tour of the NMA's Resistance exhibit at: http://www.nma.gov.au/education/resources/multimedia/interactives/resistance_virtual_tourThe NMA has a Resistance page under its First Australians section at: http://www.nma.gov.au/exhibitions/first_australians/resistance and a Resistance reference list at: http://www.nma.gov.au/exhibitions/first_australians/resistance/resources
Melbourne Museum
A multimedia project about Aboriginal massacres in Victoria opened in early November 2017 as part of the permanent First Peoples exhibition at the Bunjilaka Aboriginal Cultural Centre, Melbourne Museum. Read more about the exhibition below: